Almost without reaping a major title in the past 10 years, even Palazon had a poor performance in the elimination match before becoming the Blankenberge World Cup 2019 champion.
---
The Blankenberge World Cup 2019 trophy just ended in Belgium officially engraved the name Javier Palazon. This is a very surprising result and also one of the rare times in the world-class tournament with a full range of superstar witnessing the champion as a player starting from the qualifying round. More to the point, the Spaniard even had a dead stage in the qualifier.
With the world's 69th ranking, Palazon must compete from the final qualifying round to select the best 15 players including the top 12 players in each group and the best 3 second-placed players to enter the official round with 17 varieties.
Despite losing to De Backer (Belgium), Palazon (2 points) was fortunate to have 1 of 3 tables in the first round to advance to the official round when just over 11 competitors 0.2 points in the sub-index.
Not stopping there, the world's 69th ranked player continues to have spectacular victories in knockout rounds against Lutfi Cenet (30th in the world), Choi Sung Won (15th in the world), Torbjorn Blomdahl (14th place in the world) and ended with an overwhelming 40-23 victory over former World Cup champion Martin Horn (12th in the world) in the final to claim the World Cup title for the first time ever.
Javier Palazon became famous 10 years ago. He was once considered the best prodigy of the world carom billiards with 3 young world championships and 2 times won the third world championship (World Championship). All expect the goalkeeper born in 1988 to become a worthy successor in this discipline for Daniel Sanchez – a living monument born in 1974 with 4 World Championship titles and 12 World Cup championships.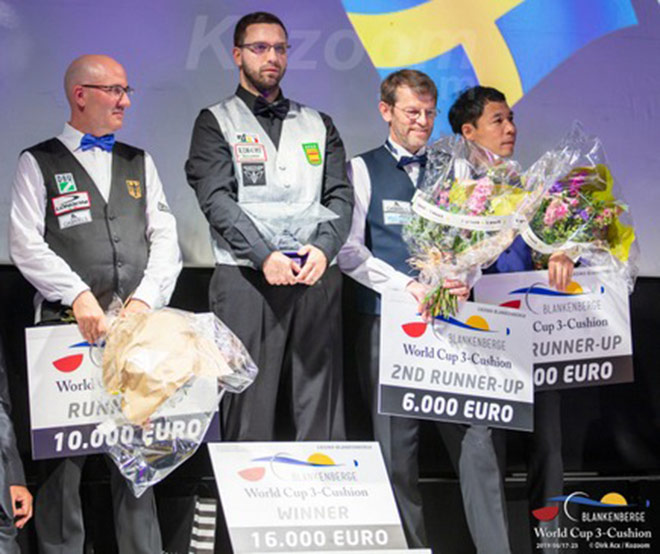 However, during the next time in his career, Palazon hardly reaped a great title. He competes in average form and struggles sometimes inside, sometimes outside the top 100 in the world.
Therefore, the World Cup in Belgium has just reaped for Palazon not only as a miraculous story but also helped him confirm his return. Thereby helping the Spanish carom billiards is no longer the only hope named Daniel Sanchez in the big leagues.